All Major Credit Cards Accepted
Queens Garage Doors Installation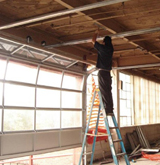 Whether you want a wood, vinyl, glass or glass door, Queens Garage Doors will help you install it! Even if it's a commercial door like a loading dock or heavy-duty steel door, our technicians will be there right away to install it for you! Not only do we have technicians ready to do the job, we also offer free estimates for new doors! We have the most competitive prices to keep our customers happy and we are honored to say that we entice most of our clients through word of mouth. If you ask anyone who's had us before they will tell you that they had a speedy, pleasant experience with ourQueens Garage Doors company. Any location in Queens that needs installation, we'll be there within the hour. You can even call us to help you customize your brand new door down to the color, glass insert, window design, insulation or non-insulation, the drive and the material. Queens Garage Doors will give you the garage door best suitable for your environment and lifestyle. We atQueens Garage Doors also install ANY part of the garage door such as:
• Springs
o Torsion Springs
o Extension Springs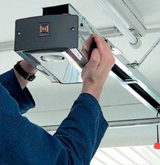 • Brackets:
o Long track bracket
o Short track bracket
o Bottom bracket
o Top roller bracket
o Flag bracket
• Step Chanel
• Hinges
• Tracks
o Vertical Track
o Horizontal Track
• Sheave
o Stationary sheave
• Bar
o Lock Bar
• Track hanger kit
• Cable Drum
o Left Cable drum (red)
o Right Cable drum (black)
• Lock
o Lock cable
• Torsion Tube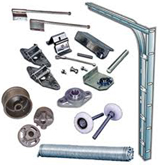 • Cone
o Stationary Cone
o Black winding cone
o Red winding cone
• End bearing plates
• Drive Installation (for openers)
o Belt drive (more expensive than chain drives but are quiet and discreet, for garage doors attached to home)
o Chain Drive (least expensive, for commercial doors)
o Screw Drive
o Computer Controlled Direct Drive (Torsion)
o Keyless Entry Opener System

Call us at 1 (800) 336-9270
There is not ONE part of a garage door that we cannot install! Queens Garage Doors can also do replacement and repair.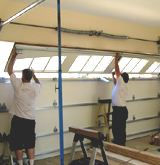 Do you live in a residential area and you're just looking for the least costly door available? If so, call Queens Garage Door and we'll install a non-insulated door made of one steel layer with an optional wind load-rated reinforcement. If you need something a little stronger we can install a garage door with polystyrene insulation with an R value of 7 and has two layers of construction and a 10 year warranty. Queens Garage Door Repair also have insulated doors with an R value of 11 for added strength and have 3 layers of construction which are composed of polyurethane steel and have a lifetime warranty. Lastly, Queens Garage Doors have our strongest fully insulated model that's 2 inches thick and has an R value 14.8 with 3 layers of construction composed of polyurethane steel (recommended for schools, loading docks and municipal buildings.) This also has a Lifetime Warranty.
Call us at 1 (800) 336-9270
If you have children who like to play near the garage or use your garage door daily you should definitely look into a door with insulation because it is more durable than a non-insulated door. However, if you live in a quiet area or maybe you don't need to use your garage door as often and want to save a few dollars, perhaps a non-insulated door would be a prudent choice. Call us now and we'll install it.