All Major Credit Cards Accepted
Queens Garage Door Spring Replacement and Repair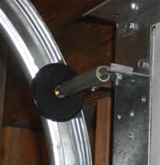 You may think you are saving your money by buying garage door parts at Home Depot and then learning how to fix it by watching Youtube videos. Even though you may know more about garage doors than your average person, it is not worth the risk to try it on your own, especially if you have a spring that needs to be repaired. You may think that it is the opener that makes the garage door lift so smoothly, but the springs in fact play a huge role in the movement of the door. This crucial part of the garage is also extremely dangerous to fix and you will run a high risk of injury. Not only injury but perhaps you try to fix it and then you make the problem worse, then you will wind up spending more money then you originally had to. Don't kill your pockets and your time call Queens Garage Door for spring repair, replacement or installation. Don't try to learn it from Youtube, save your time and call the professionals. Our technicians specialize in spring repair and can repair or install torsion and extension springs. They can even convert an extension spring to a torsion spring. Whatever you need our pros will fix. Our company's longevity builds more confidence in our customer's to trust us and over 85% of our clientele base is obtained by word of mouth. Queens Garage Doors have been serving people around the entire Queens area for over 15 years and we bring 100% satisfaction to our customers. We believe that loyalty and trust is the foundation of a prosperous business and that we should maintain that to have continuous positive feedback and better business.
Call us at 1 (800) 336-9270
What if you don't even know if the spring is broken corroded or a new one needs to be installed? What if you don't even know if it's the spring? What if looking at garage door parts is like reading in another language and you just don't get it?! You don't have to! Call Queens Garage Door and we will send a technician to diagnose the problem and fix it immediately. Don't waste your time and money by calling another company or trying to fix it yourself. Just give us a call for an on the phone round-about estimate or have us schedule you for an appointment.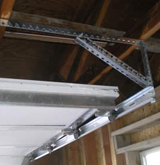 Queens Garage Doors also provide:
• Conversion from extension to torsion springs
• Extension spring alternative (both double and single vehicle garages)
• Double Torsion alternative (heavy/security level doorways)
• Single torsion spring alternative, for light garage door ways.
• One-piece garage door springs
• Complete door adjustment after spring alternative
• Converting a non-standard garage door spring
• Extended lifespan torsion spring (top traffic commercial qualities)
• Single torsion spring alternative, for light garage door ways.
To assure that these services have long lasting effects we also provide:
• Tightening and aligning
• Lubrication of all moving parts
• Garage Door Balance Operation
• Garage Door Opener Function
Queens Garage Doors replace springs for:
• Wooden Doors
• Steel Doors
• Thermal Insulated Doors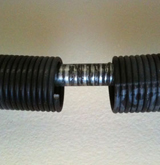 • Walk-Thru Doors
• Glass Doors
• Vinyl Doors
• Carriage House Doors
• Loading Dock Doors
• High Speed Doors
• Steel Doors
• High Security Doors
• One-Piece curtain Doors
• Overhead Doors
• High Security Doors
• ANY KIND OF COMMERCIAL OR RESIDENTIAL DOOR
Call us at 1 (800) 336-9270
You name it, we'll do it! Any garage door part that needs installing or repairing, call us and we'll be there within the hour!
**Queens Garage Doors complete Spring Substitutes using High Cycle Oil Tempered Springs**